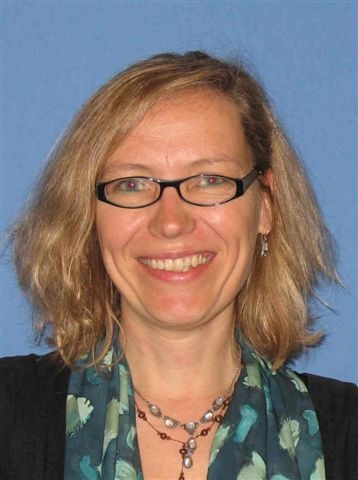 Michaela M. Grobbel
    Interim Chair, Professor of German/Advisor,
    German Program Coordinator
     Office: Carson 32
What I Do At SSU
I direct the German Program and teach all levels of German language and culture classes, including German literature and film. I love teaching and working together with my students both inside and outside the classroom. We regularly have Language Teaching Assistants from Germany at SSU (e.g. Fulbright Language Teaching Assistants) who assist our students under my supervision. Outside class, our German TAs facilitate our biweekly German Film Series (with English subtitles), a weekly informal "Kaffeestunde," fieldtrips to German events in the Bay Area, or campus-wide presentations. I also enjoy mentoring our German Club "Gemütlichkeit" as well as organizing cultural events that support student learning. These events have included literary readings, theater productions, classical concerts, a performance by well-known Romani ("Gypsy") singer Ruzsa Nikolić-Lakatos and her band from Austria, poetry slam performances, and art exhibits highlighting the history and culture(s) of German-speaking countries, for example, the Nazi persecution of Roma through the lens of Romani artist Ceija Stojka. I also organized a series of events (lectures, films, exhibits, panel discussion) focusing on the integration of immigrants and refugees in Germany. Frequently, these events are supported by the Consulate General of the Federal Republic of Germany, the German Embassy, or the Goethe Institute. My research and academic presentations and publications focus on twentieth-century women's literature and feminist theory, cultural criticism, and ethnic minority literature, especially German-speaking Romani autobiography and theater. I serve as a member of the SSU Academic Senate and I represent SSU at the CSU-wide Academic Council on International Programs, where I also chair the Academic and Fiscal Affairs Committee. In the Bay Area, I enjoy working with German teachers at the high school level. One of the highlights of bringing university and high school students together at SSU for cabaret performances or poetry competitions was our SSU Language Festival that existed for several years. As President of the Northern California Chapter of the American Association of Teachers of German (AATG), I intensified my work to connect the German Program at SSU with other schools and institutions. SSU is now one of the official Goethe Institute Testing Centers through which our German language students earn the Goethe Certificate B1, an internationally recognized German language proficiency certificate. The examination for this certificate is also open to members of our local community.
More on Dr. Grobbel
Dr. Grobbel received her M.A. and Ph.D. in Comparative Literature from the University of California in Los Angeles, after studying German and English Literature, Philosophy, and Education at the Rheinische Friedrich-Wilhelms-Universität Bonn, Germany. She also spent a year as an exchange student at Kalamazoo College in Kalamazoo, Michigan, which inspired her to pursue the Ph.D. in the USA. Prior to her position at SSU, she taught English literature and theater, Comparative Literature, and German language and literature at the University of Zürich in Switzerland, at the Goethe-Institute in Brussels/Belgium, at the University of California at Los Angeles, and at the University of California at Davis.
Her book Enacting Past and Present: The Memory Theaters of Djuna Barnes, Ingeborg Bachmann, and Marguerite Duras, in which she develops her theory of a "feminist art of memory," shows her interest in the relationship of memory and performance in women's autobiographical literature. Dr. Grobbel has extended this research into cultural studies, particularly ethnic minority studies. Her work on German-Jewish identity in literature and film and her research on various forms of Romani self-expression have been published in major journals and book anthologies. Her teaching includes Afro-German literature and history, and she was selected to participate as SSU's representative at the 2019 CSU International Programs Faculty Seminar at the University of Ghana-Legon. Her research and teaching have been recognized through awards such as the Goldstein Award for Excellence in Scholarship, the Excellence in Education Award, and the Student Ambassadors Academy Award for Excellence in Teaching. She has been the recipient of fellowships by Fulbright, the American Association of Teachers of German, Deutscher Akademischer Austauschdienst (German Academic Exchange Service), and the National Endowment for the Humanities.
 Kate Foley-Beining
 Adjunct Faculty/Lecturer

 Ph.D. (1992) in Germanic Languages, University of California, Los Angeles
 
My Background
A childhood fascination with the German language fed my desire to learn it while I was a music major studying piano at the University of Iowa School of Music. That desire virtually took over my life, leading to many years of living in Germany where I studied German language and literature, music, and pedagogy (Albert-Ludwigs-Universität; Pädagogische Hochschule, Freiburg), and further to my doctoral studies at UCLA.  My curiosity about the language's intricacies, its history and writing, its cultural and physical surroundings, and its speakers has not waned. How best to teach this rich language with its myriad of artistic, philosophical, historical, and socio-political offerings is a challenge that brings me joy.
My Teaching

I fully embrace the personalized, affective, and communicative teaching methods put forward by Krashen and Terrell in their Natural Approach to teaching language. That means my classroom is a lively place where students' opinions, talents, hobbies, studies, and personal pursuits motivate their acquisition of German. My courses are conducted entirely in German and students' voices fill the room with meaningful German conversation that is consistently growing in sophistication. Art, music, role-play, or even food preparation might find its place there in a quite practical way, while students utilize newly acquired language structures. Every student brings an essential component to the class' common pursuit of learning German.
My Academic and Professional Experience

Prior to joining Sonoma State's Department of Modern Languages and Literatures I taught German for many years at Pepperdine University in Malibu and also at the Goethe Institut in Los Angeles, UCLA, the RAND Corporation, the Getty Institute, and the University of Iowa. My doctoral research was published in 1997 under the title The Body and Eucharistic Devotion in Catharina Regina von Greiffenberg's "Meditations". I am also the Music Enrichment teacher at Healdsburg Elementary School and at West Side School in rural Healdsburg where I teach vocal music, rhythm, and dance. I am an oil painter as well. I am currently collaborating on a large-scale realist canvas with Healdsburg artist Christopher L. Evans to raise awareness concerning the deforestation of lands belonging to the native Penan people of Borneo.