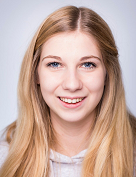 Hallo zusammen / Hi everyone! 
My name is Elena Magill and I am from Cologne, a city in the West of Germany. Having recently completed my studies at the University of Bonn I am excited to be working as a Fulbright Foreign Language Teaching Assistant at SSU this year.
Besides supporting the German Department by assisting with language teaching, I will be organizing events and helping the German Club bring German language and culture to the campus. This semester we will, amongst other things, be showing some great German movies on Tuesday nights ("DVD Dienstag") and you will have the opportunity to practice your German and discuss issues related to German culture in my weekly Kaffeestunde. I look forward to meeting you all!

I am Alexandra Boecking from Germany and I will be your Language Teaching Assistant for this fall semester 2019. I am studying in my third year at the University of Education Freiburg to become a primary teacher. My main subjects are English and History with a specialization in European teacher training to become a bilingual teacher. Because of the international focus of my studies, I am very curious about discovering the American educational system while gaining valuable academic knowledge for my future job as a teacher. I am also really looking forward to getting an insight into life in the U.S.A. and experiencing the great SSU community!
I will assist you in your German classes, and support you as a tutor. I will also be at the "Kaffeestunde" on Tuesdays. You will see me around for other events, too, like the German movie night or German Club events. I am very happy to be here with you and get to know you this semester!