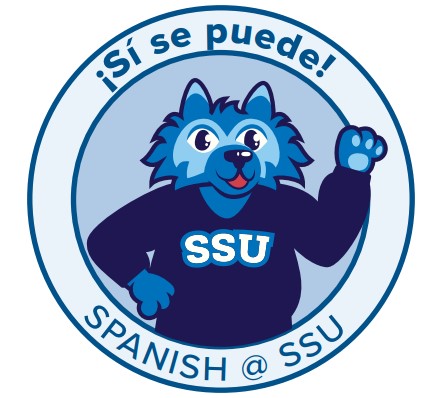 Nuestro lema: El español de por vida
Spanish is part of our lives in California, connecting us to a diversity and wealth of experiencias, perspectivas y valores lived in comunidad, cultura, familia, amistad, herencia, educación y trabajo.  The SSU Spanish program values what you bring and honors who you are, where you are from, and who you can become as a bilingual Spanish speaker. Whoever you are and want to be, you will find in the Spanish program at Sonoma State University a nurturing community of educators and students dedicated to your learning and development as a learner of Spanish or a bilingual Spanish speaker. Whether you take a single class, minor or major, the SSU Spanish program is committed to your education and your academic and professional goals. In the SSU Spanish program, every student is valued and provided with access to individual faculty advising and mentoring. Latinx and First-Generation College students are the heart of the SSU Spanish program and our teaching and curriculum honors this fact. Although Spanish is a small program, each semester's schedule offers a mix of face-to-face, online synchronous and asynchronous courses to provide you with access, support and flexibility to get the most out of your education as you navigate the responsibilities of work, family and school. If you wish to continue with your education after your BA, we also offer a Master's program in Spanish for which our majors are well equipped to begin upon graduation. 
The Spanish program is a key piece in Sonoma State's position as a Hispanic Serving Institution (HSI). We take this mission very seriously as we strive to retain and serve our Latinx students, families and communities. The Spanish program connects to you people, organizations, programs, and spaces across campus, dedicated to the daily work of building community, connection and well-being with and for our Latinx students. At Sonoma State, learning and community are central to getting the most out of education as we affirm all of our students, including Latinx students, by addressing their multiple identities as reflected in the curriculum, faculty and staff on campus. Students are also encouraged to study abroad and courses taken in the CSU International Program in Spain, Mexico or Chile may be counted toward your Spanish major or minor.

Spanish Advising
For preliminary and general advising, be sure to visit the Arts and Humanities Advising and Career Services.
If you would like advising by a Spanish program advisor, please do the following:
Review your Academic Records Report (ARR).

If you have studied abroad, please contact the office of International Services  to obtain a copy of your IP transcripts. You must bring your IP transcripts with you when you meet an advisor.

Contact an advisor directly to set up an appointment. Listed below: